---
Hi All – I haven't played out much recently.  That's ok.  One thing I am doing is writing and recording, which are my favorite parts.  Time-wise, that's the priority right now.
---
Past Concerts and Shows
The Historical List of Previousness…
not totally complete, like not at all…new sites, you loose the info.  you know, 5 years of info….
---
October 17, 2015 – Turning Leaf Festival, Boyertown Community Park, Boyertown, PA – I look forward to this every year. It's a great fall-time festival at the park with good music, but also lots of great stuff for the family. Turning Leaf Fall Festival. From what I know so far, I'll be on stage about 4pm.
Dec 4 – 4pm-4:45pm – Radio Interview and Performance, Soundstage on WCHE 1520 AM (Host: Nicole Zell), West Chester, PA – You can STREAM ONLINE: http://www.wche1520.com/soundstage.htm
Dec 6 – 6:30-7:30pm (outdoor stage) – JOY Event at Valley View Community Church, 778 Sunnyside Avenue, Audubon, PA 19403
Dec 13 – 8-10pm – Concert: Christmas with Anakai and Friends, Proximity Cafe, 1450 E. High St., Pottstown, PA 19464
It is also a CD Release Party – Anakai is release her first record ever, a Christmas EP, "Oh Holy Night".  Jeremy will also be release his new Christmas EP "A Mistletoe Trio".
Artists Playing: Anakai Ney, Jeremy Simon, Until the Red Light, The High Street Swing Company, Nick Garland, Ben & Denia Bullock
Dec 17 – 7pm – Radio WEEU 830AM, "Nights with Nick" Live from Proximity Cafe, singing with Anakai Ney (Host: Nick Lawrence)
Dec 22 – 7pm – Radio WEEU 830AM, "Nights with Nick" Live from Proximity Cafe, singing with Anakai Ney (Host: Nick Lawrence)
Oct 25, 2014 – 8p-10p Proximity Cafe, Pottstown, PA – First off, this place is large and spacious.  It is not some cramped little cafe.  Very nice place. 1450 E. High St., Pottstown, PA 19464
---
Oct 11, 2014 – 12:45p-1:45p
Turning Leaf Fall Festival, Boyertown Community Park, Boyertown, PA – on the Acoustic Stage –
This is a big community event, been going on for years.  I'm always looking forward to it.  This is the 7th Annual festival!
Festival Music Schedule
Acoustic Stage Schedule
Band Shell Schedule
12:45 – 1:45 – some guy named Jeremy Simon
2:00 – 3:00 – Yolanda Spohn
3:15 – 4:15 – Silhouette Song
4:30 – 5:30 – 11A
11 – 12 – Atomic Bat
12:15 – 1:15 – 31 Bad Habits
1:30 – 2:45 – Black Hat Boris
3:00 – 4:15 – River Rat Jenkins
4:30 – 6:00 – Middle Class Madness
March 18, 2014 – Chick-fil-a, Audubon, PA. 5:30p-8:00p. Me, music. You, eating (and listening). 680 S. Trooper Rd., West Norriton, Pennsylvania
March 21, 2014 – VAST event (Leigh Valley) "Artists Stand Against Sex Trafficking". Human Sex Trafficking awareness and how to help. Artists and music at event. I'm interested in learning a lot.  There will be a number of things aside from the art going on.
@ Legacy Christian Church – 5925 Tilghman Street, Ste. 800, Allentown, Pa 18104
Musicians/Bands: Pompton Lakes, Voirvoir, Nathan Earl & Rachel Joy, Billy Stoy, John Huffod, Troubler, Jeremy Simon
I play at 10:30pm …Flier below: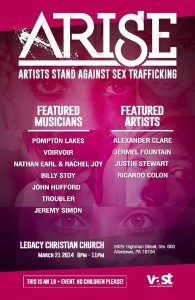 The Evergreen Tour 2013 Concert Dates
Date
Time
Place
Address
Details
Dec 7
5pm
Joy Event
@ Valley View Community Church
778 Sunnyside Ave, Audubon, PA 19403
(map)
Family-oriented community event! Lots of stuff for everyone.
We're playing the outdoor stage surrounded with many many fire pits!
Dec 13
7pm
Lititz Church of the Brethren
300 West Orange Street, Lititz, PA 17543
Dec 14snow cancellation
7pm
Hope of the Nations Church
134 N 5th St, Reading, PA 19601
There's a lot of parking in the back.
Dec 15
6pm
Praise Christian Fellowship
(in the Gallery!)
323 June Avenue, Blandon, Pa
We are part of the African

fundraiser

. They are asking for donations at the door for the fundraiser.  Cafe type set up with hot drinks, sandwiches, snacks.
Dec 20
7pm
The Water Tower
2200 West Drive, Oaks, PA 19456
Across from the Oak's Convention Center. Right next to Arnold's
The Water Tower has a a great stage, good bar, restaurant, bowling lanes, pool table, and 4 PLAYER AIR HOCKEY.
Friday, February 15, 2013 – 7pm to 9:30pm
@ The State Theatre Boyertown, Boyertown, PA
with Rivers Monroe, and Miles Til Dawn!
Snazzy and historic Theatre.  Amazing Pepsi fountain!
Tickets: $10 in advance (contact me!), $15 at the door.
Friday, March 1, 2013 – 7pm-9pm
@ The Courtyard Cafe on Main, Denver, PA
Sharing the evening with Everything Dear!
We'll probably trade the stage every other song.

Joy Event — December 1, 2012 — 5:00 – 8:30 PM
  @Valley View Community Church
778 Sunnyside Ave Audubon, Pa 19403
All Free! 
Christmas Tree Lighting, Bonfires, Live Music, Face Painting, Crafts, Petting Zoo, Dance Performances, Cookies & Hot Coccoa
I'M PLAYING ON THE OUTDOOR STAGE WITH THE FIRE PITS.  7PM-8PM
Website with Pictures and Video…
Outdoor Stage Schedule
 5:15-6:00 – Bob T & Smilin
 6:00-6:20 – TREE LIGHTING (out front)
 6:30-7:15 – Calling Out Closer
 7:15-8:00 – Jeremy Simon
 8:00-8:30 – Calling Out Closer
Oct. 13, 2012 :: 11:15a – 12:30p
Taking Motion @ Turning Leaf Fall Festival, Boyertown, PA
@ Boyertown Park. The full line-up and times to come!
[Facebook Page]
Sept. 22, 2012 :: 12noon – 4p
Weaver's Orchard Fall Festival, Morgantown, PA
Taking Motion is doing ALL the music!
[weaversorchard.com]