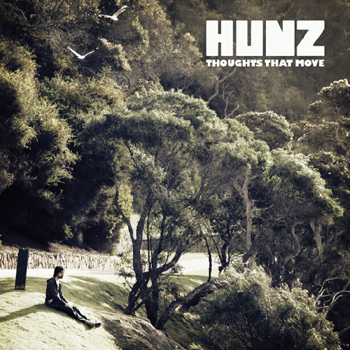 Album of the year in 2010 for me was Hunz's "Thoughts That Move".  He wrote, sequenced, recorded, and mixed the entire thing in one month taking on the RPM Challege.  It paid off.  I really think he felt free, didn't think too hard, and just ran with it.  It's so alive and spontaneous in many ways.  The first track "It's So Light" was one of the first songs on a wake-up playlist we had for a while…one or two after Tonic's "Open Up Your Eyes"!  🙂
Hunz as a fellow is just a great person to correspond with.  I got to meet him in-person back in 2002 at Cornerstone Festival, when he was touring with his former band, Beanbag.  He has a long musical history that I had been following prior to even then, stretching back into the 90s as part of the brilliant ranks of the demoscene, writing and sequencing music in a type of software called a tracker.  Much of my heart is still back in those days, and you'll find Hunz's heart is too, as he churned this album out using a modern tracker called Renoise.  He's carved out his own space in the electronic music world.  One thing I've always enjoyed is his knack for creating his own sounds / samples, and unconventional drum and rhythm layers.  There is much else to speak of his talents in the graphic arts and animation world, which you can nab quite a few glimpses of on his site http://hunz.com.au.
Pick up the album in any format you desire over on his bandcamp site, along with many other great releases.  There you can also leave him a few well-deserved dollar-fests.  Also he's on iTunes.  And on his .com you can also get the source files to each song to remix or learn from when you load them up in Renoise.